Garden Center & Nursery - TREES & SHRUBS
Trees and shrubs can add beauty, interest, and value to your property. Pine Tree offers a broad selection: evergreen or deciduous, native and ornamentals. Blueberries and raspberries too. And we proudly support local growers, so our trees are well-adapted to our climate and conditions.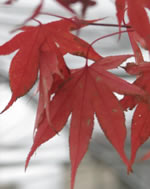 A plant's value to the property arises from both functional and aesthetic considerations. Trees are generally the most valuable plants in a landscape because they are the most useful. For example, they may function as screen from another property, wind blocks, or wildlife havens. Shade trees can reduce the cost of heating and cooling your home by 10 to 50 percent.
There are many things to consider when investing in trees and shrubs:
* What is its purpose? Screening? Shade? Focal point? Seasonal interest? * What are the conditions of the area where you will plant it? Wind? Soil? Moisture? Other plantings? * Always visualize its mature size and shape--how tall do you want it to grow? * How wide? Are there constraints, like electrical wires or structures nearby? * How much time and attention are you willing to give it? All trees require care, but some will need more pruning or spraying than others.
Your answers to these questions will help narrow down the list of trees and shrubs to consider. Our staff is ready to help you find the perfect plant to meet your needs.