GARDEN CENTER
» organic gardening
» garden amendments
» pots & garden accents
» garden tools
» gifts for the gardener
» for the birds
» our guarantee
WHAT'S NEW
SUMMER & FALL HOURS:
MON - SAT: 8 AM - 5PM
SUN: 9 AM - 4 PM
JUST ARRIVED:

Pumpkins, unusual squashes & gourds, indian corn, corn stalks, salt marsh hay, fall mums, montauk daisies, anemones, sweet autumn clematis


FALL FESTIVAL SALE STARTS FRIDAY OCTOBER 11th!

40% off deciduous trees, shrubs, roses
25-50% off perennials
35% off evergreens & grasses
25-50% off window boxes, trellises & whiskey barrels
35% off statuary, birdbaths & fountains
35% off glazed pots
15% off bulbs
AND MUCH MORE...


Thinking of re-doing garden beds or updating your landscaping? Just give us a call at 508-432-8878.
GARDEN CENTER - Pots & Garden Accents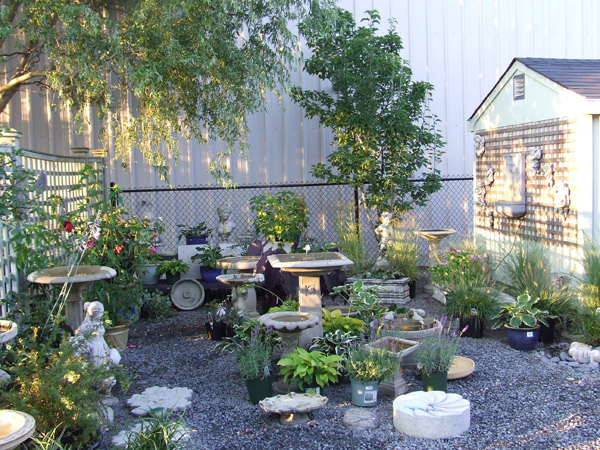 Add personality and function to your landscape with our collection of unique birdbaths, fountains, statuary, stepping stones, plaques, pottery, whiskey barrels, window boxes, and trellises.
Find the perfect pot for that happy house plant, dazzling annual flower display or your patio tomatoes with our selection of pots in all sizes, styles and colorful glazes.
Choose from our specially designed containters, or LET US DO IT! Bring in your pots or boxes, select one from our collection, or let us choose. Tell us what colors and plants you like. We'll add the soil and fertilizers, arrange the flowers, and send you home with a beautiful container ready to adorn your landscape. This is also a great gift idea!
Call or email us to order your filled boxes and pots now. 508-432-8878 Or email us.